Europe's leading entertainment company Sky has signed an agreement with Aston Martin Lagonda and its motorsport division – Aston Martin Racing – to become the British marque's official UK media partner. The announcement comes ahead of this weekend's showpiece endurance race, the 2018 24 Hours of Le Mans.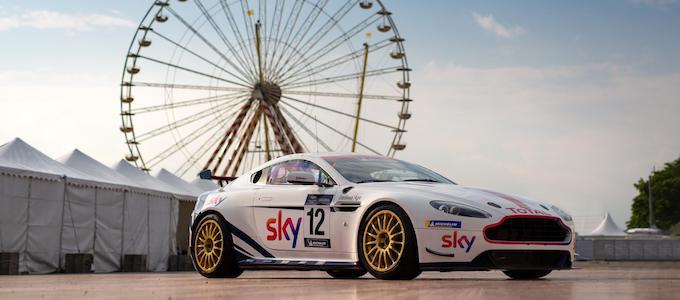 This exciting new partnership brings together two quintessentially British success stories to collaborate and forge a range of creative content together that focusses on both Aston Martin Racing's motorsport activities in the FIA World Endurance Championship, and Aston Martin Lagonda's growth under its second-century business plan. 
The contract, which covers the full 2018/19 FIA World Endurance Championship 'Super Season', will allow customers from Sky's loyalty program, Sky VIP, unprecedented behind-the-scenes access to Aston Martin Racing at both the British and French rounds of the leading motorsport series; the 6 Hours of Silverstone and 24 Hours of Le Mans. Not limited to the race circuit, the partnership will also provide Sky VIP customers with a variety of unique experiences throughout the year, bringing them closer to Aston Martin's world-class luxury sportscars and UK production facilities.
Sky branding will appear on Aston Martin Racing's two new Vantage GTE Pro challengers as well as its V8 Vantage GTE Am car, at both Silverstone and Le Mans this season. The logos will also feature on the drivers' overalls, the team's garages, transporters and hospitality units.
Fittingly, the partnership will be launched this weekend with Sky Sports F1 commentator Martin Brundle – who will share driving duties with multiple Olympic gold medal-winning cyclist Sir Chris Hoy – in a Sky-liveried Aston Martin Vantage GT4 during the Aston Martin Festival race, which takes place ahead of the 24 Hours of Le Mans on Saturday (16 June) at 10:15 CET.
Aston Martin Lagonda VP and Chief Marketing Officer Simon Sproule said of the partnership:
Sky stands apart as a dynamic and disruptive force in the European media and technology business, a similar position occupied by Aston Martin Lagonda in the luxury market. As two British brands focused on delivering outstanding and memorable experiences for our customers, I am excited at the prospect of what can be achieved when Sky and Aston Martin will combine our creative energies.
Stephen van Rooyen, Chief Executive Officer of Sky UK added:
A great British success story of engineering and design, and a winner on the global stage, Aston Martin is a natural partner for Sky. This partnership will allow Sky to collaborate with Aston Martin, and give our Sky VIP loyalty customers the opportunity to go to races at Le Mans and Silverstone, and to meet the drivers and the team in the Aston Martin garage.
Note: Press release courtesy of Aston Martin Racing.