Norman Dewis, OBE was the chief test driver and development engineer for Jaguar Cars from 1952 to 1985. During his time at Jaguar, he helped develop one of the greatest-ever upgrades in automotive braking, the disc brake, which has probably saved tens of thousands of lives over the years. Dewis, along with 23 other outstanding individuals, will be inducted into the British Sports Car Hall of Fame in June.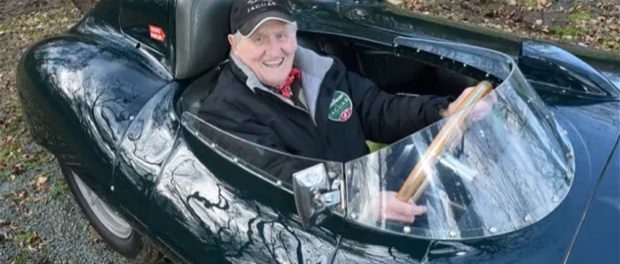 In his 33 year career with Jaguar, he was a key part of the team which developed and raced the three-time Le Mans winning D-Type sports racing car; is a member of the last surviving all-British Mille Miglia crew; and helped develop some of the world's most important sports cars and saloons in the world including the E-type, XK 140/150, 2.4/3.4 and Mk 2 saloons, Mk VII/Mk VIIM, XJ13, XJ-S, and the XJ saloons.
Additionally, he raced in the Goodwood 9 Hours and set an amazing 173mph production car record at Jabbeke in Belgium with an XK 120. Completing over a million test miles at 100mph-plus average, Dewis survived high-speed crashes and rollovers in the days before seatbelts – and without ever breaking a single bone.
Dewis received the OBE in the Queen's New Years Honours List in 2015. Sir Jackie Stewart, three times Formula One World Champion, said:
Norman Dewis is one of the real characters, not just of the British motor industry but also British Motorsport. He's one of the backroom boys and sometimes they don't get the accolades they should. Her Majesty the Queen and the honours office have very much done the right thing in awarding Norman Dewis an OBE.
Credit: Parts of this biography taken from Wikipedia, The Telegraph, and Norman Dewis's own site.
Note:
This is part of an ongoing series focusing on the 23 individuals who will be inducted into the British Sports Car Hall of Fame in ceremonies on June 2nd, 2017, at the Hall of Fame in Petersburg, VA.