Christopher John LTD is pleased to announce the opening of their Morgan dealership in Holly Hill, Florida.  Located on U.S. 1, just two miles north of International Speedway Boulevard in the heart of Daytona Beach.  Convenient from Orlando or Jacksonville and even the west coast of Florida or from Georgia, Christopher John LTD is excited to be part of the Morgan world and bringing these beautiful cars to this part of Florida.
Christopher John LTD is a name born from father and son a lifetime of sports car interests, racing and youthful enthusiasm, the utmost professionalism and a whole lot of fun.
Vintage racing and English sports cars have been Christopher Silvestri's passion for more years than he can remember. From childhood in the back of his father's Sunbeam, Alfa or Rover he knew he was part of something special. It was inevitable that Silvestri would end up in the classic car business. All those years playing with Matchbox cars and immersing himself in books about racing and sports cars for hours on end.
Morgan cars have always been a smoldering desire for Silvestri. The classic looks, rugged, agile and everything else that there is to love about hand-built English sports cars.  When the opportunity arose he jumped at the chance to be Morgan's newest Dealer in the USA.
Christopher John LTD's first 3-Wheeler is on order and should be arriving in August. They will be offering authorized warranty & parts as well as service work on all 3-Wheelers and Morgan cars in the general area. Christopher John LTD plans on consigning and selling used Classic Morgan's and select British and European classics and sports cars.
Silvestri says they are …
very excited to announce their appointment as the East coast USA Agents/ Dealer for the Crossle 9S sports racing car, built to 1960's specifications, with updated safety equipment and a race tuned Dunnell Ford Zetec 220 HP engine, this the perfect track car.  Classic 60's looks and the pedigree of the Group 6  two-liter championship of the past.  With the support of the Crossle factory our goal is to grow a one-make series for historic motorsport here in the USA. A demo is being readied for our showroom and we will be displaying this stunning race car at upcoming vintage racing events this fall! We will be providing full support for the Crossle 9S , as well as parts, we are looking forward to being your source for the legendary Crossle brand here on the east coast.
Christopher John LTD's building will afford a great backdrop to showcase Morgan and Crossle, as well as their automotive lifestyle collections for the sports car enthusiast and historic racer. Items carried will include quality high-end clothing, driving shoes, accessories and car care for the true discriminating gearhead.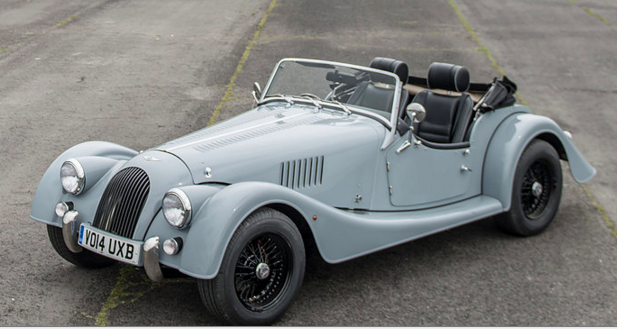 The grand opening and open house at the dealership will be May 22, 2016, in conjunction with MOG South. They are welcoming all British cars to attend! They will have a catered lunch and some door prizes as well a new Morgan on display.It's the weekend of celebration of the automobile car show in Daytona on Saturday the dealership open house on Sunday, so make it a full car weekend.
Note: Press release courtesy of Christopher John LTD.