Just one week after a number of new record prices were achieved, Silverstone Auctions secured more high prices in its sale at the Practical Classics Restoration and Classic Car Show on Sunday. 75 per cent of the cars on offer were successfully hammered away at the NEC, Birmingham in front of hundreds of classic car fans at the show for a total sales figure of £1.5million.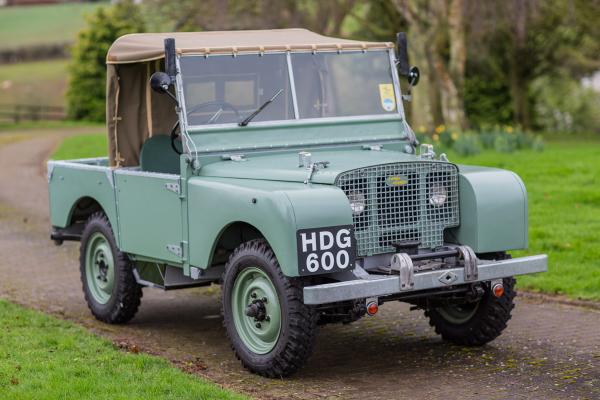 In the home city of Land Rover, record prices were secured for two very special Series One examples. One of the earliest Land Rovers produced, a 1948 Series One Chassis #149, sold for £47,250, more than £20,000 over its lower estimate, and the highest price for a Series One in recent years. Not only that but one of the last Defenders produced, a 2016 Land Rover 110 Heritage Edition, one of only 400 made and with just 108 miles on the odometer, sold for £42,188.
A historically important and very rare car, a 1950 Land Rover Series I Station Wagon with coachwork by Tickford, sold for £38,250, a world record price. With early Land Rover's status as important collectors' items now proven, these cars are sure to prove a canny purchase for the new owners.
Speaking after the sale, managing director of Silverstone Auctions, Nick Whale, said: "Once again we've achieved a strong set of results at this fantastic show and I'm pleased that so many of our vendors are leaving having secured record prices and feeling satisfied that their pride and joys are going to good homes."
Befitting the show, a selection of fantastic barn finds and restoration projects were presented to visitors. An original UK right-hand drive, matching numbers 1978 Aston Martin V8 Series III offered as a non-running project, sold for £47,250. A 1968 Jaguar E-Type Series II Roadster, a matching numbers example which will provide the new owner a wonderful project, sold for £41,625.
Nick added: "I'd also like to take this opportunity to thank everyone who attended the sale and I look forward to returning to our spiritual home of Silverstone circuit for The May Sale."
Consignments are now being invited into the May Sale, taking place at Silverstone circuit on May 21st, and to Silverstone Auctions' first international sale which takes place at The Classic Race Aarhus in Denmark on the 28th and 29th of May. Anyone interested in submitting an entry and benefitting from Silverstone Auctions' expertise and support can call 01926 691141 or alternatively, visit www.silverstoneauctions.com.
You can find view the full results from the sale at the Practical Classics Restoration and Classic Car Show at https://www.silverstoneauctions.com/the-restoration-show-sale-2016/view_lots/pn/all.