The sixtieth E-Type to leave Jaguar's production line in 1961 went back to Somerset to surprise its previous owner on his 83rd birthday after undergoing a full 'nut and bolt' restoration at leading restorers Classic Motor Cars of Bridgnorth (CMC).
When former Royal Naval Commander Bob Reed put his pride and joy, a rare Jaguar E-Type into auction little did he expect that it would sell for £109,000 or that it would be purchased by someone who would spend substantially more than the purchase price to bring it back to its former glory.
Bob bought the car in February 1965 and owned it for more than 45 years, raced it and only decided to sell it because he couldn't afford to restore it and didn't want to see it deteriorate further.
Bob had not seen the car since it was picked up by Bonhams and taken to their auction at RAF Hendon on April 23, 2013. At the auction, the car caused a huge stir amongst collectors and sold for more than three times its highest pre-sale estimate.
Bidders from all over the world fought over the 1961 Roadster, one of the most desirable of all E-Types. The car was a very early 'flat floor' 3.8 litre model dating from the first few weeks of production, also one of the earliest surviving right-hand drive E-Type roadsters and had never been restored. It had covered only 65,000 miles from new.
The E-Type eclipsed its £25,000 to £30,000 estimate with eight telephone bidders on the line but it ended up going to the man in the room who offered the first bid of £40,000.
James Knight, Bonhams International Group Motoring Director said: "Although in a pretty tired looking state, this E-Type was so inherently original we attracted an unprecedented level of interest when offered at the auction. It has evidently been bought by the right buyer, who commissioned one of the world's leading Jaguar specialists to bring it back to life, sympathetically restoring the car to its former glory, expertly retaining as much originality as possible during the process."
New owner Chris Anderson said: "I sent the car to CMC, the leading restoration company for Jaguars and asked them to bring it back to the condition that it would have left the factory in 1961."
Because of his affection for the car Bob contacted the new owner and kept in touch with the restoration that was going on at CMC.
When Bob's daughter Katie contacted CMC and asked if she could have a picture of the car for his 83rdbirthday Managing Director Nick Goldthorp said "of course but I think we can do better than that."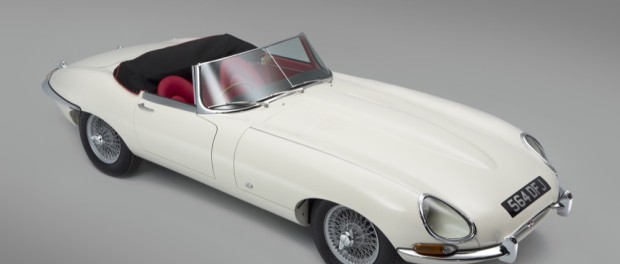 Conversations with Chris Anderson took place and it was jointly agreed that the car, which recently won Best of Show at the 2015 RAC Midsummer Drive-In, should go back to celebrate Bob's birthday on Monday 14th September.
Nick Goldthorp said: "The car took 3.500 hours to restore and since then has received many accolades. It was a real pleasure to bring the car back to someone who enjoyed it for so many years. The look on Commander Reed's face when the car turned up was fantastic and I am sure that it was a day that he will never forget. It is great when a car like Chassis 60 is re-united with someone who owned it for so long and appreciates the work that went into the restoration."
Friends and family in the village of Vobster had been told that the car was coming back and had kept the fact from Bob, but when it arrived they turned up at Bob's house to wish him well. After champagne had been opened and a birthday cake that had been sent from auctioneers Bonhams to mark the occasion was cut, Nick Goldthorp took Bob to lunch in the car in the nearby village of Mells.
Commander Bob Reed said: "This was an amazing birthday surprise I was absolutely flabbergasted. I wanted to see the car once it had been restored but thought that I would have to travel to it at some point, little did I think that it would be brought to me. I can't thank CMC and Chris Anderson enough. It made my day."
He added: "The car is fantastic and the level of detail and time that CMC have put into it is just fantastic. I am sure that it is better now than when it first left the factory in Browns Lane."
Chris Anderson said: "The car gave Bob many years of fun and happy memories and I am sure that it is going to do the same for me and my wife Ali. I hope that Bob has a great 83rd birthday."