Bentley's new, second-generation Continental GT3 will make its competitive debut at Monza in Italy this weekend (April 20-22) when Bentley Team M-Sport begins the defense of its Blancpain GT Series Endurance Cup Teams' title. Following an extensive testing schedule, the outfit's two new-for-2018 Continental GT3s will line up at the historic grand prix circuit in northern Milan for the first of this season's five European rounds.
Guy Smith (GB), Steven Kane (GB) and Jules Gounon (FR), who made their first appearance together as a trio at Bathurst in February, are paired in the #7 entry while the #8 crew comprising Andy Soucek (ES), Maxime Soulet (BE) and Vincent Abril (MC) embarks on a second season eager to go one better than the runners-up position achieved in 2017's Endurance Cup Drivers' standings.
The six Bentley Boys are joined on Monza's entry list by another official Bentley customer outfit, Team Parker Racing, which makes its Blancpain GT Series Endurance Cup return with the first-generation Continental GT3 after a year away. Reigning British GT champion Seb Morris (GB) – who claimed the crown with Team Parker Racing – leads a Pro/Am driver line-up also featuring Derek Pierce (GB) and 2017 European Le Mans Series GTE title winner, Rob Smith (GB).
Bentley's Director of Motorsport, Brian Gush:
It's been a long time coming, and a lot of hard work has gone in behind the scenes, but our second-generation Continental GT3 will contest its very first event at Monza this weekend. There's clearly a lot of excitement surrounding the new car and it's shown promise in testing but we have to stay focused: there are 26 Pro Cup entries and 10 manufacturers in the Blancpain GT Series, all of which are capable of scoring podiums. 2018 remains very much a development year for the second-generation Continental GT3 ahead of its full customer roll-out in 2018.

Our engineering team will be supporting Team Parker Racing at Monza, as well as during the season as a whole. The first-generation car remains a competitive proposition, as we have seen from recent wins in the Pirelli World Challenge.
Bentley Motorsport's weekend activities begin on Thursday 19 April with a media and VIP guest event at Bentley's Milan dealership. Friday then sees a 'bronze' test reserved for amateur drivers ahead of Saturday's practice and pre-qualifying sessions. Qualifying and the race itself both take place on Sunday.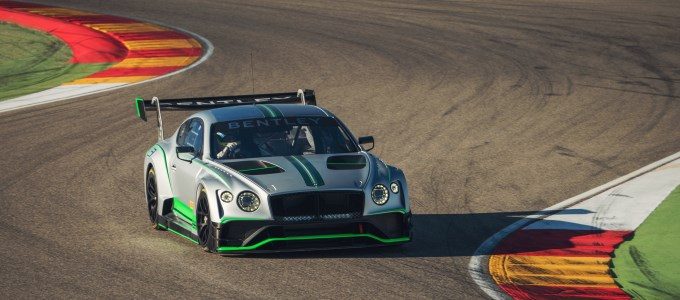 Live coverage of both qualifying and the race will be shown live on Blancpain GT Series' website and Facebook page, as well as on TV across Europe.
In addition to the five Blancpain GT Series Endurance Cup rounds in Europe, Bentley Team M-Sport will also campaign the new Continental GT3 in this year's remaining Intercontinental GT Challenge events at Spa-Francorchamps, Suzuka and Laguna Seca.
Driver Quotes
Guy Smith – #7 Bentley Continental GT3:
It's going to be a really exciting weekend at Monza. I conducted the test and development work, as well as overseeing the race debuts, of Bentley's first-generation Continental GT3 and the Speed 8 with which we won Le Mans in 2003. To be here again, at the start of Bentley's latest motorsport chapter, is really special. The car itself has a lot of potential and is a very different propostion to the previous iteration. It's been designed from the ground up with customer racing in mind but without losing the competitive edge that professional racers love. We're not getting carried away, and it would be unwise to make predictions, but we are all very optimistic ahead of the new season and can't wait to get on track at Monza.
Andy Soucek – #8 Bentley Continental GT3:
We proved by winning last season's Endurance Cup Teams' crown that a strong start isn't necessarily essential. We were sixth at Monza in 2017 and, while we're obviously aiming to better that this year, consistency also remains key to mounting a title challenge. We have conducted a lot of testing and are as prepared as we can be, but this is a brand-new car and there's still plenty to learn. When it comes to development, nothing can actually beat racing, so we're planning to stay out of trouble and see where the three hours takes us. Our partner event on Thursday also represents a great opportunity to study the race and road-going Continentals side-by-side. The new GT3 looks incredible up-close and its DNA with the production model is clear to see.
Monza Timetable – all times local
Friday 20 April
10:00 – 11:30: Test Session 1
14:30 – 16:00: Test Session 2
17:20 – 18:20: Bronze Test (Team Parker Racing only)
Saturday 21 April
11:35 – 13:05: Free Practice
17:00 – 18:30: Pre-Qualifying
Sunday 22 April
09:45 – 10:45: Qualifying
15:00 – 18:00: Race