JD Classics – one of the world's leading classic car specialists – secured a race victory at Brands Hatch over the weekend, to continue its winning streak three events into the season. The team's legendary Costin Lister was victorious in the Stirling Moss Trophy, with an XK120 supported by JD Classics finishing second-in-class in the Woodcote Trophy.
The Costin first took to the track late on Saturday morning for its 30-minute qualifying session. The hard work of JD Classics' Competition Department, both back at their Maldon HQ and trackside, shone through as Chris Ward drove the Lister to a blistering 1:43.065 time just five laps in. The time proved to unbeatable, with the nearest competitor – a Lotus 15 – still more than two seconds off the pace. 
The race began with a rolling start, and the JD Classics Costin immediately began pulling away from the pack during the first five laps before an incident brought out the safety car, bunching up the field. By Lap 11 the safety car had returned to the pits, and the Costin Lister was free to race, with the Lotus 15 close behind. The team took the chance to come in for a mandatory 60-second pit stop, before rejoining the race in fourth.
Over the next few laps, other competitors took their stops and the JD Classics car was back at the front of the pack, but the Lotus was always in pursuit. As the hour-long race came to an end Chris Ward and the Costin managed to take the race victory with an impressive 13-second lead.
JD Classics' Competition Department was also supporting the customer Jaguar XK120 'Ecurie Ecosse' of Steve and Josh Ward. Producing an impressive fastest lap of 1:59.8, the XK120 finished second-in-class in the Woodcote Trophy; the second consecutive class finish for the car.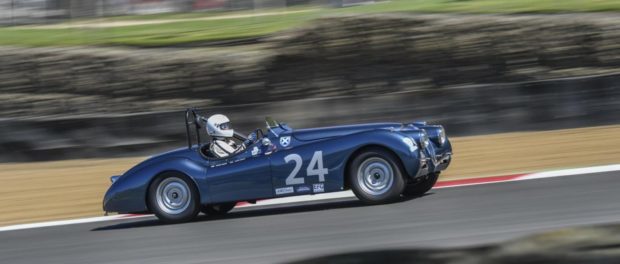 JD Classics founder, Derek Hood, said:
Our Competition Department had only just returned from an exhausting few days supporting 10 cars at the Mille Miglia but they still managed another incredible win at Brands Hatch over the weekend. Our perfect tally of race wins so far this season is a testament to their expertise and dedication – they are, without a doubt, the best in the business.
Note: Press release courtesy of JD Classics.