Silverstone Auctions are inviting entries for The Classic Sale at Silverstone on the weekend of Friday, July 30 through Sunday, August 1. Their lot list is rapidly growing, but you still have a chance to submit your car or motorcycle today before their catalog closes on Monday, July 12th.
The line-up is already looking fantastic and confirmed is this 1927 Rolls-Royce Phantom 1 Open Tourer. This is a superbly restored 1926 Phantom 1 Tourer which was re-bodied in the eighties with an Edwardian Shooting-Brake flat body with its own story to tell. To ensure Rolls-Royce cars could be fitted with the finest bodies in the world, they introduced the 'New Phantom', which remained in production in the UK until 1929, by which time some 2,269 chassis had been delivered. This particular car is accompanied by a dozen photocopies of original documents which include build sheets, spring testing, component selection, weight reports, inspections, and pleasingly the car's service records (at the Works) up until early 1938.
In 2004 the car was purchased by Raymond Lippiatt, who is the current owner. Raymond is a long-term Rolls-Royce and Bentley enthusiast who is well known by the respective Owners and Driver's Clubs. The most unusual thing about the venerable Rolls was its distinctive 'Shooting Brake' rear bodywork which had been saved from the scrapyard in 1987. The rear bodywork of this car has seen life at every level and it's good to see that it's back enjoying the party, however, beneath the frivolity lies a well-prepared and well-presented 1927 Phantom 1, which is referred to as 'The Best Car in the World'.
The catalogue for our flagship sale is truly superb and to have two pre-war classics as part of the offering is truly special. These two phenomenal examples have a fascinating history and we welcome anyone interested to come and view them on the dedicated viewing days.

Gary Dunne – Sales Controller for Silverstone Auctions
The second delightful example heading to The Classic is this 1925 Bentley 3.0-Litre Vanden Plas-style Tourer. This is a genuine, matching numbers, mid-twenties 3-litre which has a fascinating history that would be welcome anywhere in the world! With characteristic humility 'W O' was constantly amazed by the enthusiasm of later generations for the products of Bentley Motors Limited, and it is testimony to the soundness of his engineering design skills that so many of his products have survived. It was clothed from new by HJ Mulliner with their 'All weather' bodywork and finished in Grey and Black, normal for the period as green was very seldom used at the time.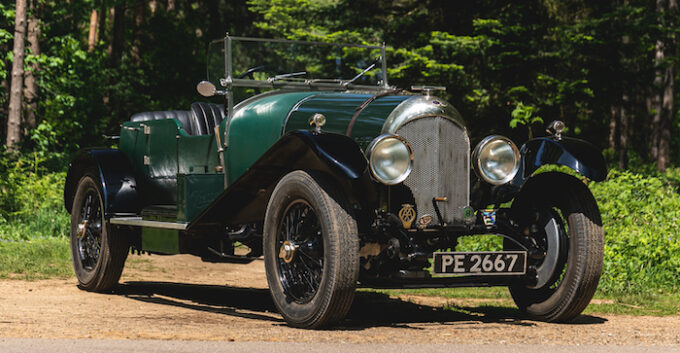 PE 2667 is also offered from Raymond Lippiatt and the car itself looks absolutely splendid; standing all-square and proud and belying the thirty years since its restoration. This example is finished in BRG (Napier Green) and Brooklands Green with black wings, running boards and wire wheels. The black leather interior of the car is delightfully patinated and looks exactly as a well-used and well-loved Vintage (pre-1931) Bentley should look and the car's period appearance is complemented by its original toolbox, spares chest, Pratts petrol can and hessian-covered suitcase.
Silverstone Auctions classic and competition car sale is taking place on Saturday 31vJuly and Sunday 1 August with their dedicated motorcycle sale on Friday 30 July at The Classic.
If you are interested in submitting an entry, the auction house is inviting you to join their growing lot list for the sale. To talk to a member of the team, you can email [email protected] or contact them on 01926 691141.
Note: Press release courtesy of Silverstone Auctions.