The Morgan Motor Company has helped to raise an incredible £1.39m towards the coronavirus relief effort, with the giveaway of its all-new Plus Four for BBC Children in Need and Comic Relief's 'The Big Night In' appeal, an amount that will be matched by the UK Government.
'The Big Night In' appeal saw the BBC's biggest charitable partners, Comic Relief and BBC Children in Need, join forces for the very first time with a live star-studded show to help raise funds and celebrate acts of kindness. The show aimed to unite the nation with an evening of incredible entertainment and stories of those going the extra mile to support their communities in these troubled times.
The money raised through the Morgan Plus Four prize (worth £62,995 before options) will be split between Comic Relief and Children in Need and will go on to support a variety of charities and projects in the UK, so they can continue to provide vital emergency support to those affected by the current crisis. This includes making sure people are safe from harm, mentally healthy and have access to food, warmth and shelter; as well as helping people stay connected, active and positive through these extraordinary times.
The winner of the Morgan Plus Four was chosen at random, and has now been contacted. On hearing the news, they said that they were "delighted and overwhelmed" to have won the car. After the lifting of lockdown restrictions, they will be welcomed to the Morgan factory in Malvern, Worcestershire, along with their selected friends and family, for a private tour to see exactly how a Morgan is built. They will also have the chance to decide their final specification alongside Morgan's renowned team of designers. And, once the car has been delivered, Morgan will also cover the cost of the winner's first year of tax and insurance on the car, as well as servicing for two years.
Representing the company's newest product, having been unveiled only two months ago, the Plus Four made the perfect model for Morgan to choose to donate. Under the skin of the famous Morgan silhouette lies the cutting-edge CX-Generation bonded aluminium platform, which offers supreme levels of strength and rigidity, yet weighs just 97 kg on its own. Power comes from a BMW 2.0-litre TwinPower Turbo engine producing 255 bhp, enough to accelerate the Plus Four from 0-62 mph (100 kph) in as little as 4.8 seconds, and allow it to reach a top speed of 149 mph (240 kph). The winner will be able to choose between an engaging six-speed manual or an advanced eight-speed automatic gearbox, depending on their preference.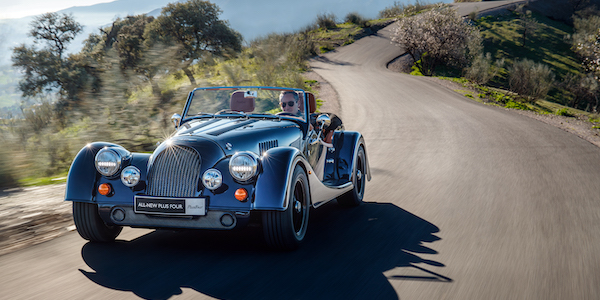 Steve Morris, Chairman and CEO of Morgan Motor Company, said:
On behalf of the Morgan Motor Company, I would like to extend our gratitude to all those who entered the Plus Four competition and helped to contribute such a significant amount towards the Big Night In appeal. The amount raised exceeded the figure that we'd hoped to achieve, and we feel proud to have been able to help towards the relief efforts in such a way. We look forward to welcoming the winner to Malvern to specify their new car and watch it being built. Our team in Malvern is working hard to continue to help contribute to the relief efforts, and we would like to take this opportunity to once again thank all of the key workers around the world for their incredible work to keep us all safe.
Note: Press release courtesy of Morgan Motor Company