A few years ago, Jaguar Land Rover made news by purchasing the entire James Hull classic car collection, which featured 543 cars, including 130 Jaguars and some extremely rare prototypes. The company never revealed how much it spent to acquire all of these models, but it seems ready to recoup some of its losses, and concentrate the collection as it will be auctioning at least approximately cars from the group at Brightwells Classic Cars on March 31.  No Jaguars or Land Rovers are being offered up for sale.
The collection consists mostly of Rover, Mercedes-Benz, Morris, Ford, MG, Austin, Vauxhall, Peugeot, and Citroën cars, as well as several more minor brands. Some of the most notable offerings will be a 1972 Reliant Ferguson 4×4 prototype car—the only one in the world—a 1974 Rover P6 3500 Estate, a 1978 Vauxhall Chevette 2300, and an ultra-rare 1993 Mercedes 320CE manual. All of the classic cars will be offered without reserve.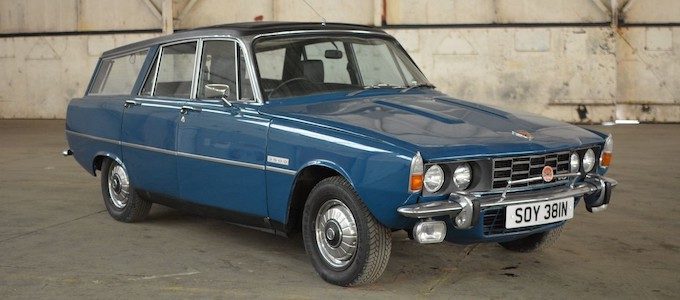 We are absolutely delighted to have been asked by Jaguar Land Rover Classic to auction off of part of its significant Classic Collection. Focusing solely on non-Jaguar Land Rover products, the diversity of the lots on offer is extraordinary, offering everything from a Riva-style speedboat to the unique Scimitar Ferguson prototype—all at no reserve. It's safe to say it's going to be a lot of fun!
— Matthew Parkin, head of Brightwells Classic Cars
In addition to the cars, auction lots consisting of toys and other trinkets may be of interest collectors. These lots include a significant collection of pedal cars, along with boats, large-scale airplanes and smaller Dinky and Corgi toys. You can view the whole on offer at the official Brightwells website.