The best-selling lots at Barons Connoisseurs Classic Car Collection sale at Sandown Park on July 18th were two pieces of classic British motoring heritage, both of which exceeded the top estimate. The bright red 1970 Jaguar E-type Series 2 FHC achieved £51,700 while the handsome 1964 Jensen CV8 sold for just under £49,000.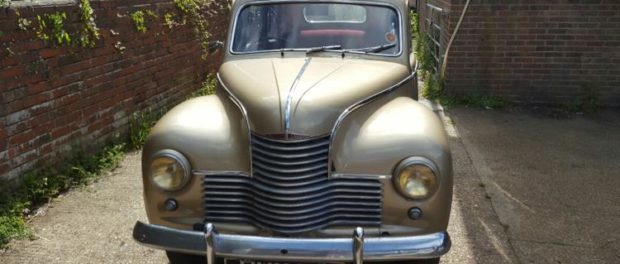 Queen guitarist Brian May raised over £6,300 for the animal charity Save Me when the 1952 Jowett Javelin he bought for his father 35 years ago went under the hammer at the sale. Enthusiastic bidding and strong pre-sale publicity meant that the car went for over top estimate, with the lucky new owner acquiring a charismatic family classic car previously owned by rock royalty.
Barons' Auction Manager, Tim Gascoigne, commented:
As per last year, the aim of our Connoisseurs Classic Car Collection sale is to offer a smaller selection of high-quality cars, and we were certainly able to achieve that. The hall was full of interesting and top quality cars, and we've received some great feedback from customers who attended the auction. We're a family-run business that prides itself on honesty, integrity and great service, and the marketplace certainly seems to be reacting positively to that now.

Some wonderful cars found new homes on Tuesday, most notably the series 2 E-type and Jensen CV8. We were also very pleased that the Jowett Javelin was sold, raising a great amount of money for charity.
Big Cats wanted
The Barons team is now on the hunt for Big Cats, as it prepares to head to Kempton Park race course for its annual Jaguar Heritage, Classic and Sports Cars sale on September 16th. Entries are now open for what is always a hugely popular event for Jaguar lovers.
Results, Barons' Sandown Park, July 18th 2017*
1970 Jaguar E-type series 2 FHC £51,700
1964 Jensen CV8 £48,950
1966 Ford Mustang £23,650
1975 Ford JPS Capri £20,900
1961 Jaguar MKII 3.8 £19,800
1990 Ford Sierra Sapphire Cosworth £19,250
1959 Triumph TR3A £18,700
1994 MG RV8 £18,150
1967 Jaguar MK2 240 £15,950
1972 Triumph TR6 £15,400
1992 Porsche 968 Convertible £12,100
1998 Rover Mini Cooper £9,625
1958 DKW 1000 Coupe £9,350
1966 Mercedes W108S Class £9,075
1952 Jowett Javelin £6,325
1995 BMW 840 CI V8 Coupe £5,280
1991 Mercedes R129 500SL £4,345
1972 Triumph Spitfire £2,530
1978 MG Midget 1500 £2,145
*Prices include premium.
Note: Press release courtesy of Barons' Classic Car Auctions.