Sir John Black was Chairman of Standard-Triumph, helped support Morgan, Swallow and Jaguar production, and responsible for the creation of the TR range. Sir John Black will be inducted into the British Sports Car Hall of Fame in June.
Black was born in Kingston upon Thames in 1895. He studied law at the University of London before joining the military during the First World War. He eventually achieved the rank of Captain the Royal Tank Regiment. After the war, he left both the military and law when he joined the barely 10 years old Hillman Motor Company as sales manager in 1918. He was appointed a director in 1919.
John Black left Hillman for Standard when Hillman became part of Rootes in 1929. He was made Standard's joint managing director in 1933 only to become sole director less than a year later.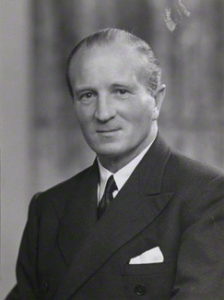 With the possibility of the Second World War on the horizon, he enthusiastically backed the government scheme for shadow factories and managed two of them at Banner Lane and Canley. These were built by the government for the manufacture of aero engines and for aircraft.
In July 1941 Black was appointed the chairman of the Joint Aero Engine Committee. For his successful performance in this position, he was given a knighthood in 1943. From that point on, he insisted that his full title be used by all staff and employees.
At the end of the Second World War, in 1944, Sir John Black organised Standard's purchase of Triumph. He was injured in late 1953 in an accident when being given a demonstration of the Swallow Doretti. His fellow board members believed this affected his judgment and he was forced to resign in January 1954, officially because of his health.
In his retirement, Sir John Black took up farming. He died suddenly in a hospital in Cheshire on Christmas Eve, December 1965, at the age of 70.
A brief biography of Sir John Black as published by the Standard Triumph Company in 1951 can be viewed at this Triumph Mayflower site.
Note:
This is part of an ongoing series focusing on the 23 individuals who will be inducted into the British Sports Car Hall of Fame in ceremonies on June 2nd, 2017, at the Hall of Fame in Petersburg, VA.