DM Historics is pressing a historically significant 1959 Lotus Elite S1 race car back into competition following full race preparation by the Kent-based specialists.
This special vehicle was campaigned in the early 1960s by Scottish racing driver Tommy Dickson. A member of the legendary Ecurie Ecosse racing team, Dickson had a successful racing career throughout the 1950s and '60s and competed in events such as the grueling 24 Hours of Le Mans and Nürburgring 1000km.
The extensive history file that accompanies the Elite, supplied to its new owner by DM Historics, includes photographs of the car at circuits including Goodwood and Mallory Park in period.
Following a racing career throughout the United Kingdom, the Elite then made its way across the globe to America where it fell under the custodianship of another racing driver Bob Atkin, of Bob Atkin Motorsport, who fully restored the car in the mid-1980s before campaigning the car further. The Elite proved highly competitive in historic racing and continued to be raced until 2014, with the car retaining valid certification for racing in the USA to this day.
After purchasing this historic machine from DM Historics, the new owner has chosen its team of experts to prepare the car for a new season in historic racing. Specialising in the sale, restoration, and maintenance of superlative classic cars, DM Historics is utilizing the in-house team of experts to prepare the car to FIA Appendix K regulations.
This skilled preparation goes beyond performance tuning and advanced vehicle set up, with safety a paramount concern and a strict set of rules to adhere to achieve FIA certification. What's more, as the car is a historically significant racer, keeping the integrity and character of the vehicle intact is a key objective of DM Historics.
The first outing for the freshly prepared Elite will be the Zandvoort Classic in the Netherlands, taking place from July 27-29, which will see the car line up on the grid among a field of pre-1976 classic sports and touring cars.
A particularly scenic circuit full of tight corners and changes in elevation and camber, this event will be a fitting first outing for the lithe Lotus which was renowned in period for its superlative handling.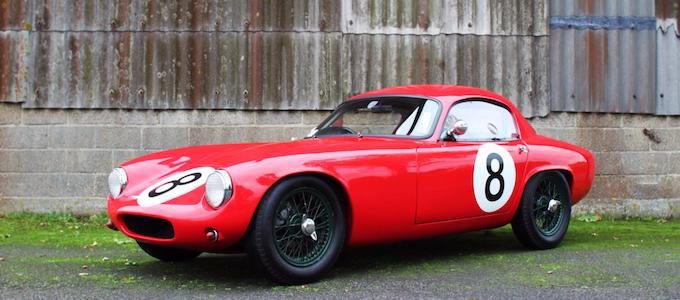 Following the Zandvoort Classic, the DM Historics Elite will continue to be campaigned internationally, with two driver endurance events planned and perhaps even a full-circle return to Goodwood where the car raced in the 1960 Tourist Trophy.
Marcus Holland, co-founder of DM Historics, said:
This car is a prime example of what DM Historics is all about, with a heady combination of provenance, rarity and driving thrills. It is a real pleasure to get this historic racer back on the track where it belongs and to start a new chapter in its racing career.
Note: Press release courtesy of DM Historics.