The McLaren 570S GT4 has scored its first win of the season in the opening round of the 2017 British GT Championship at Oulton Park, UK. Customer team track-club, with drivers Adam Balon and Adam MacKay, took overall GT4 victory during the first of two races over the Bank Holiday weekend, as all six examples of the latest GT racing model from McLaren showed pace and reliability.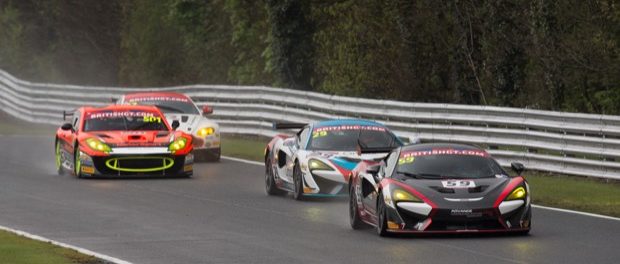 From the outset of the weekend's racing activities, the pace of the 570S GT4 looked strong. Building on the year of experience at the wheel of the track-honed McLaren Sports Series model, GT Driver Academy pairing of Ciaran Haggerty and Sandy Mitchell in the #100 Black Bull Garage 59 car secured pole position for the first race and would line up in P2 for the start of the second.
Heavy rain during the first race of the weekend made for tricky conditions. As drivers got to grips with a busy circuit featuring more than 30 entries, the track-club duo performed well and stayed out of trouble on the notoriously tough track. With consistent pace and a quick pit stop, the pair catapulted into the lead in the second half. After a trouble-free first stint in the hour-long sprint, Balon handed over to MacKay for the run to the flag. Further down the order, the 570S GT4 of Tolman Motorsport also achieved success, with Joe Osborne and David Pattison claiming a podium in the GT4 Pro/Am class.
Despite the track drying out for the second race of the Easter Bank Holiday meeting, the on-track action was far more frantic but just as successful for the McLaren racers. The #29 In2 Racing 570S GT4 of Matthew Graham and Marcus Hoggarth climbed from P11 to P2 overall in the GT4 standings, claiming the GT4 Pro/Am class victory as a result. The #59 570S GT4 of customer team Black Bull Garage 59 also finished in a podium spot, with Dean MacDonald and Akhil Rabindra on their British GT debuts. The young pair secured P3 in the GT4 Silver Cup division after a hard-fought run in the race, which was red-flagged after an incident between two GT3 cars towards the end.
Note: Press release courtesy of McLaren Automotive.