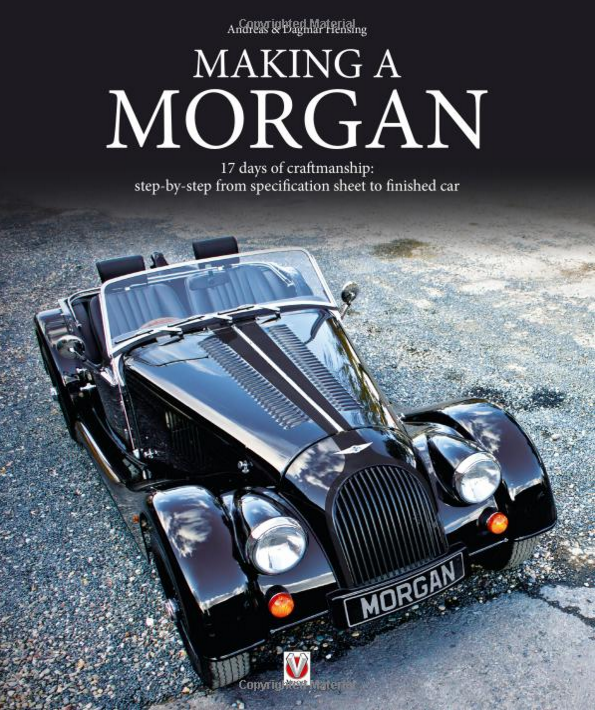 I have to tell you honestly, I fell in love with this book. How many car books can you honestly say that you read passages out of to your wife and daughter, and they were amused. Interested even. Sorry, but that just doesn't happen in my house. Making A Morgan By Andreas Hensing, hits the ball out of the park in so many ways it is hard to know where to start.
The book starts with the requisite short history of the Morgan car company, its founders, and the cars they have produced over last 100 plus years. All that is really good stuff, but the meat of the book is what comes next.  Hensing visits the factory at Malvern and follows the production of a car through its entire production cycle from the moment of conception – the build sheet, all the way through to birth – the running, driving car rolling out of the factory. Through the 17 days of the build, every step of the process is documented in a way that is particular to Morgan – by the people who craft the car.
This is where the book really shines. Through Hensing's time spent in the factory and interviews with the craftsmen, you get a real sense of these handmade machines. Important rituals are documented – like the ringing of the handbell for breaks and tea time. Hobbies are talked about, and generations of family all working together with pride are held up as the example instead of the exception.
Alongside these descriptions, the photography is excellent, and if the term may be applied to an automotive factory, intimate. From bare metal and stacks of wood, we are show frames and dashboards and eventually a full car take form. This book is as much a documentation of a work of art as it is a of a car. And thankfully the handsome printing and quality of the book itself does not let its subject matter down.
The author, Andreas Hensing, was born in Hamburg, Germany in 1954, He started his professional career as a Naval Officer and studied social science and HR-Management at the University of the Federal Armed Forces in Hamburg. He is Honorary Citizen of Athens, Georgia and became a member of the VDZ, the organization of the German magazine publishers. He runs a small book publishing house for corporate publishing – the "Hanseatischer Buchverlag". His writing style in the work is both informative and warm. He obviously has an affection for his subject.
It is hard not to be a fan of Morgans, but even if you are not, I highly recommend that you pick up this book. Not only does it document a craftsman's way of manufacture that is almost unheard of these days, but it gives insight into the passion and history behind a magnificent car.
Title: Making A Morgan: 17 Days of Craftmanship: Step-by-Step from Specification Sheet to Finished Car
Author: Andreas Hensing
Pages: 160 pages with 380 pictures
ISBN: 978-1-845848-73-6
Publisher: Veloce Publishing