John Twist has decided to sell the 1973 MGB-GT that he built and recently restored for his late wife Caroline. This is a rare opportunity to have John Twist sign the title to your new car. John has hired GR Autogallery to handle the sale, and is not taking questions as he's bad at selling cars! He's really good at fixing them though!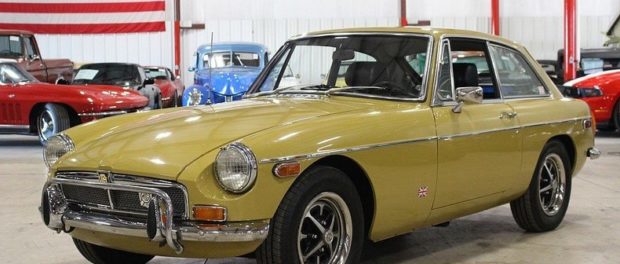 John Twist of University Motors located in Grand Rapids, MI is a name that has been associated with unprecedented MG service for years. John and his staff have been exclusively specializing, servicing and restoring MG Automobiles for decades earning him international recognition in all MG circles. People that know John also know that he has a wealth of knowledge and is happy to share it.
The 1972 MGB GT offered here is a car that John purchased the car in December of 2008 as a gift for his late wife, Caroline Robinson, to match her original MGB/GT that she purchased in 1983. Caroline and John worked side by side since the start up of University Motors for many many years until her passing in 2010.
Since, the car has remained in storage until 2013 when John removed the car from storage, gave it a cosmetic and mechanical freshening and now it is our privilege to offer the car for sale. The car is presented in Harvest Gold with ROstyle wheels and trim rings. The 1.8-liter motor is original to the car. Prior to John and Caroline's acquisition, the transmission was upgraded from a 4-speed manual to a factory 4 speed with overdrive, the interior was upholstered as you see it in the pictures and came from the MG Owners Club UK. In 2013, the car was professionally repainted in its original Harvest Gold. The stainless steel mesh grill, mesh headlamp guards and the front bumper over rider bar were added at this time to match Caroline's original MGB/GT.
Other recent services performed by John and his staff at University motors include: a competition clutch, rebuilt and ported cylinder head, water pump and carbs rebuilt. Mechanically, the car is spot on, fully sorted and ready for immediate use and enjoyment; the best performing MGB/GT that we have had on our floor at GR Auto Galley. Cosmetically, the car remains very attractive in all areas. The interior is excellent in all areas including a near perfect dash and gauges, the seat upholstery is wonderful and fitting to the car and the carpet kit is newer. The underside remains highly original as does the engine bay.
To check out the car, many more pictures, and the sale, visit GR Auto Sales of Grand Rapids.
Note: Press release courtesy of University Motors.