Beaulieu is proud to welcome two new rallies, Simply Aston Martin and Simply Jaguar, to its busy 2016 calendar of Simply rallies. Celebrating two of Britain's best-loved sports car marques within the successful Simply rally format, these new rallies will join the six already well-established Simplys that will be returning for 2016.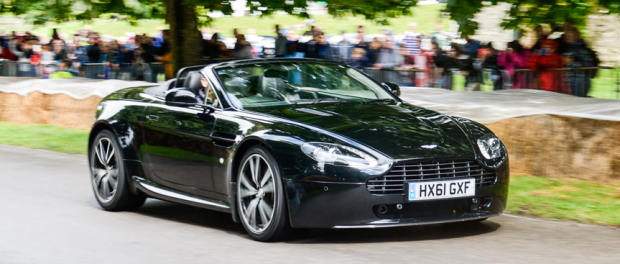 Simply Aston Martin will get the show season off to a racing start on 10th April, as owners of all Aston Martins, classic and modern, are invited to display their cars in the grounds of the National Motor Museum. A number of owners' clubs are expected to attend the new Simply Jaguar, taking place on 8th May, which will gather together a wide variety of sports cars and saloons adorned with the famous leaping cat mascot, with all cars built by the historic manufacturer welcome.
Organised and run by Beaulieu, each Simply rally offers the owners of relevant vehicles the opportunity to drive into the Beaulieu parkland, join the display, catch up with like-minded owners and enjoy all of the features of the attraction, at a special offer rally entry price. Following a successful 2015 season, the 2016 calendar of Simplys is sure to delight motoring fans.
Beaulieu's Events Manager, Judith Maddox, said: "Since their inception in 2010, our calendar of Simply events has gone from strength to strength. We now have a solid core of annual Simplies, while each year, new marques and themes are added into the mix."
Simply Ford, the longest-running Simply, continues to grow in popularity and is an unmissable event for any Ford enthusiast. Over 1700 visitors attended the event in 2015, which saw over 900 cars on show, ranging from classic Prefect, Anglia, Escort and Capri, to the latest Focus, Mondeo and Fiesta, while a vibrant display of Transits celebrated the fiftieth anniversary of Britain's favourite van.
Another petrol-head favourite is Simply Japanese, which saw double the number of Japanese cars from 2014 motor into Beaulieu to put on a fantastic show. The display spanned a wide range of marques, including Toyota, Subaru, Nissan, Mitsubishi, Lexus, Honda and Datsun, while there was a strong showing from owners' clubs.
Virtually every variation on the rugged Land Rover was in attendance at Simply Land Rover, which experienced a surge in participant numbers for its third year. 4X4 fans were treated to the sight of pristine show winners and battle-scarred workhorses rubbing shoulders, from the Series I, II and III models to the County, Defender, Discovery and Range Rover.
The event also partnered with Land Rover Experience, West Country to offer participants the opportunity to try Beaulieu's very own off-road Forest Drive, either in their own Land Rover or as a passenger in a Land Rover Experience vehicle. This proved to be a very popular activity with all time slots throughout the day fully booked.
Simply Porsche, held in association with The Independent Porsche Enthusiasts' Club (TIPEC), welcomed a diverse selection of Porsches which spanned the history of the German marque, while visitors to Simply Classics and Sports Car were treated to a colourful display, ranging from post-war family classics to high-powered sports cars.
The Simply format is kept fresh every year, with some of the smaller Simplys making way for new ones. Simply VW was an exciting new addition for 2015, which got off to a great start with 550 Volkswagens participating in the event. From air-cooled classics, such as the legendary Beetle and iconic Type 2 camper, to the more modern Golf, Scirocco and T4, this much-loved marque was well represented. Also well-attended were the fifth Simply Smart and the one-off Simply Pink.
For the first time Beaulieu's annual biking event, previously Motorcycle Ride-In, came under the Simply umbrella. More than 1000 visitors shrugged off the drizzly weather, as over 600 bikes and trikes rode into the grounds of the National Motor Museum. With sports bikes, custom cruisers, preserved racers and more in the line up, almost every variation on engine size was represented, from diminutive single-cylinder mopeds to mega-power flat-six monsters.
For 2016, Simply Vauxhall will be making way for Simply Aston Martin and Simply Jaguar. For a full list of Beaulieu's 2016 Simply rallies, visit www.beaulieuevents.co.uk.