Thanks to Melody Laurel we have a special event report on the 2017 America British Reliability Run, Pennsylvania Chapter. This event was held at the end of September. Melody is currently assistant director of the Delaware Valley Triumphs and is also on the board of directors for the Pennsylvania chapter of America's Reliability Run. This year, the event will be held the first weekend of October.
---
Another year's America's British Reliability Run has come to a close. $27,000.00 has been raised for New Jersey's Children's Specialty Hospitals, Neonatal Abstinence Syndrome Program and the Traumatic Head Injury Programs. These programs receive no government funding and all of the proceeds will go directly to buying much-needed beds and other items, not funding the front office.
The America's British Reliability Run has been in existence for over 12 years. It is not a race. It is a time of fundraising, driving glorious B roads, fellowship and showing off our British pride and joys.
It was started in Detroit and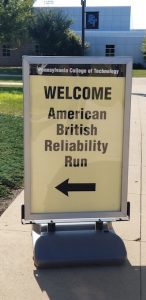 ran for several years. Later it was brought back into Pennsylvania by David Hutchison. A year later the Colorado Run was added. New England and Washington DC were added this year. As of next year, 2018, there are hopes it will be expanded to Atlanta, Georgia, and Southern California. Please check the website britishreliability.org for more information.
Now on to my and Larry's portion of this tale …
Our team name was "Finally Baby! … Maybe?" Larry and I were hoping to take Baby the Spitfire on this run but her crankshaft and block had a disagreement so once again the Spitfire was put in storage awaiting an engine rebuild. Last year she was in paint and got caught in a divorce process, no not ours!
Banshee, my trusty TR8, and mostly-daily driver was called into action not only taking me to work almost every day but also getting cleaned vacuumed and doted over. She was called into additional service to go to local car shows bringing the message, flyers and asking for donations for the ABRR and this year's charity.
Banshee opened her Frenched doors and seats to the delight of many children. Showed off her not so stock v8 engine and most of the time had a small crowd asking questions of what she was. Banshee is in need of new interior; her headers need to be powder coated and overflow needs to be stripped to the shiny brass that is under the half-worn black paint. So, as you can guess we never took home any trophies, but there was always a thank you for being here or it is good to see that a TR8 was loved and being cared foremost of all driven.
At this time as well, Larry and I are also on the planning committee for the PA ABRR. Scores of letters for donations for anything were sent. Letter to artists, friend, and major corporations. Some came through – AD Music from England gave CDs for each car to enjoy, Lancôme Cosmetics gave a basket to one lucky lady co-driver. Two BJ's locations donated gift cards for snacks and water to keep drivers and navigators alike hydrated and happy. Commemorative blankets embroidered with the runs logo were the piece de resistance of each bag. Each car's goodie bags would be the most filled and largest to date.
On September. 21, the night before the run Larry and I were at David Hutcheson home putting the goodie bags together. A truck was packed with tables, bag's, ladders and all the accouterment for the set up at Caitlyn and Cody's in Quakertown, PA the starting point and end point of the run. At the starting point, caffeine and sugar (coffee and donuts) awaited all participants as the checked in. The car banners were a bit large so many creative ways were implored to make them fit small English windshields.
The run teams this year consisted of one late model Lotus, a plethora of MGB's and a few MGB GT. Several big Jaguars, most of what is left of the local chapter of the Spitfire Squadron and two TR6 had joined this year's run. Rounding off the registrations were a few Austin Healeys, one Sprite, two 3000's and NB4. One Lotus Cortina and a very rare Triumph Sport 6. My apologies if I missed anyone.
This year's first-day run was from Quakertown to Altoona, PA about 200 miles. Lunch was at Skeeter's BBQ. Lunch was a relaxing respite with wonderful views out the walls of windows. A parking lot full of little British cars at one side and a delightful view of a lake on other.
The first overnight stop was at the Wingate By Wyndham which had secure gated parking. Dinner was catered at Lenny's Classic Car Collection. Pre and post dinner drinks were poured at a small British bar call "Shaken Not Stirred". The James Bond connection was not lost for there are several Aston Martins and Bond movie posters in the collection. The owner's tales of the acquisition of his collection of cars made for an enjoyable and interesting evening.
Cat lovers in the crowd were pleased as well. The on-location rodent patrol of Aston and Martina (yes, he was Martin until a trip to the vet brought enlightenment that he is a she), were looking for a handout and an occasional scratch behind the ears.
Up the next day for the second leg was a drive of about 200 miles. Larry got us up an hour too early so the day was long. The drive was once again beautiful twisting 'B' roads in the Pocono Mountains. First stop was cars and coffee at the Swigart Museum.
The local car club was present upon our arrival with a plethora of American iron, pickups, and several restored station wagons (this makes my heart sing since most were abused). The ever-present Belair and a rat rod rounded out the mix. I am not really sure what the locals thought of our parade of Brits, but there were smiles and friendly conversation.
A quick trip to the museum let us know that small place has the world's largest collection of automotive medallions and license plates in the World! Many of the museum's cars are Concourse winners. They even have two Herby the Love Bugs! One is pristine, and one is a very-wrecked double. Our schedule did not allow us to stay long so Larry and I have made a note to go back and spend some more time there.
Off to a gas stop and off to the next set of directions. Thanks go to team "I Could Have Had a V8" for letting me cut in line as the 8's gas tank is on the right side! I at this point managed to lose the credit card, adding another thing for Larry to do – call the bank to replace it as well as giving me directions. I am quite certain that at this point he really wanted to tell me where to go.
As you can imagine the proposition of keeping 30 little British cars together is a challenge. Add to that given personal interpretations of printed directions, and this is like herding cats! Several scenic drives and several alternative drives were found to our next destination. All thirty cars thankfully arrived at the Pennsylvania Institute of Technology only an hour late.
The institute has one of the few automotive restoration programs in the country. Everything from metal workings, interior, and steam engine rebuild are taught. This program has been used by the Swigart Museum on many of their concourse winners. The students are in the midst of several projects currently including a Packard, an MG, and a Porsche speedster at this time.
The Institute has an award-winning restaurant on campus, so the culinary arts class were asked to prepare a dinner for us of English classic fair. It made for the best meal of the trip. Classic British food with a flair!
Sated, we made our way to the Genetti Hotel for drinks, fellowship, and stalled-on-the-side-of-the-road stories. We also reminisced about our misspent youths as we watch the next generation of motor/petrol heads parade their Toyotas, Mazdas, and Mustangs down the main street. Some rites of passage never change. There is hope for the automotive future after all!
The next morning, after a delayed driver meeting, team "Keep Calm and Motor On" had a small hiccup. Our crack mechanic, Eugene, got out a hammer to fix the problem and declared "if a hammer won't fix it, it's an electrical problem". All British car mechanic shade tree or otherwise now have a new mantra!
The sun shone down on what was to become the hottest day of the trip, 95 degrees. The last 150 miles of this run promised to go well.
As we rounded one of the last corners Banshee started losing speed. This was not boding well. Pulling over I popped the hood and jumped out to investigate. Finding nothing visibly wrong and checking what fuses I could reach I opted to call my mechanic. Much to my chagrin, both Larry and I had no cell service.
A good Samaritan in a late model pickup let us use his cell. As I was talking to my mechanic, trying to troubleshoot the problem, team "Keep Calm and Motor On", Sandy and Bill Goble in their drop-dead gorgeous MGB, stopped to render assistance. As you remember their MG had caused a delay in the start earlier in the day. They had cell service, so the good Samaritan went on his way after many thanks.
The chase truck with the car of shame and our crackpot mechanics, Bill and Eugene were hopelessly lost some 40 miles off route. The phone with GPS that they were using had decided to have a major malfunction. Thank goodness they had a map, and after talking to Bill they surmised there would be there in 30 minutes.
Both MG Bill and I continued to troubleshoot to no avail. Even the owner of the driveway I was blocking hooked up the battery jump unit just to find the battery was not the problem. When the truck and trailer arrived, team "Keep calm and Motor On" bid us a fond adieu to continue on to Caitlyn and Cody's.
Much to all of our disappointments, nothing would start Banshee. The car of shame was backed out and Banshee was unceremoniously winched into the trailer. Into the car of shame for the last 60 miles … sigh.
The car of shame this year was a late model Mini Cooper with a six-speed manual. I had forgotten how much fun they were to drive. I previously have owned several. No shame to drive it at all really.
No, I will not give up driving Banshee, my TR8.
As soon as she is back on the road, I once again will have a grin on my face. The small block V8 will be music to my ears. Shifting through the five-speed gearbox will make me fall in love all over again.
It cannot happen fast enough, and yes, Larry and I will be on the committee for the Pennsylvania chapter of the ABRR next year.
---
Again, thanks to Melody for this event report. A few links she would like us to relay are …