MINI UK is proud to announce the return of MINI CHALLENGE for 2018, bringing packed grids and spectacular racing to fans across the UK.
Packing 49 thrilling races, across four different classes into 13 all-action weekends, the MINI CHALLENGE will once again visit legendary race circuits including Silverstone, Brands Hatch, and Donington Park. Confirming the status of MINI CHALLENGE as one of the premier single-make race series in the UK, the top level John Cooper Works class will support the British GT and BRDC British Formula 3 championships for the second year in succession and, for the first time, the series will be supporting DTM at Brands Hatch on 11-12th August 2018.
Now in its 17th year, the MINI CHALLENGE enjoys enduring popularity thanks to the combination of affordability, packed grids, close competition and a huge fun factor in keeping with the MINI ethos. For 2018 the four-class system is retained, ensuring affordable racing for a range of budgets with selected control parts for guaranteed competitiveness. Confirmed 2018 grid sizes are already approaching the record levels from 2017 with 2 months remaining until the start of the season.
The ultimate MINI racers compete in the John Cooper Works class with 3-way adjustable Nitron dampers, an SCS Delta motorsport ECU and a Quaife sequential gearbox for a Touring Car-like experience. The 2-litre TwinPower engine, derived from the road-going MINI John Cooper Works 3-Door Hatch, is tuned to 265 hp while Dunlop slick and wet-weather tires contribute to an unrivaled sense of fun for the driver whilst delivering searing lap times comparable with considerably more expensive machinery.
New for 2018, series sponsor Dunlop will be entering their own John Cooper Works class guest-driver car, with big names from the world of motorsport scheduled to get behind the wheel throughout the year.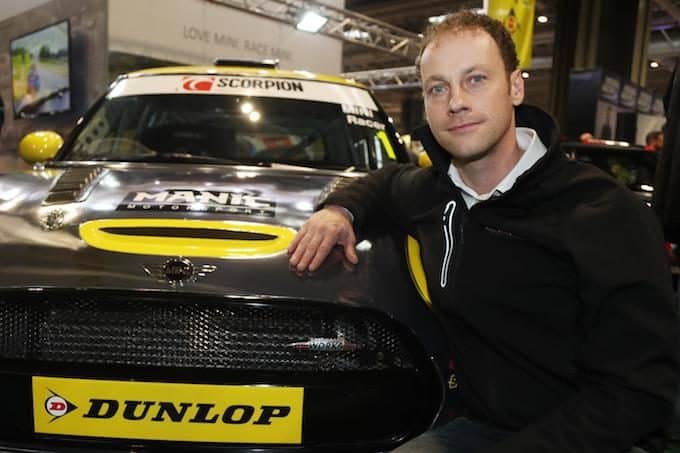 The Cooper PRO class also runs on slick and wet-weather tires for a genuine race car experience combined with single-way adjustable AST dampers, a naturally-aspirated 1.6-litre 130hp engine and six-speed Cooper S gearbox with competition clutch for a balance of performance, affordability and strong reliability.
Running in tandem with the PRO class is the Cooper AM series, using the same 1.6-litre power unit but with a 30kg increase in minimum weight, treaded tires and a free choice of single-way adjustable damper to minimize expenditure and also allow an inexpensive upgrade to the higher Cooper Pro class.
The increasingly-popular Open class continues for 2018, allowing MINI vehicles built to other specifications to compete on equal terms. Running on Dunlop Direzza tires and an equalizing power-to-weight ratio fixed at 180bhp per tonne keeps competition close, while relatively free regulations elsewhere allows drivers and teams to improve performance through engineering and development.
Charlie Butler-Henderson returns to the series for his third year as a MINI ambassador, competing in the John Cooper Works class after an impressive fourth-place finish in the 2017 championship. Bringing his experience of the British Touring Car Championship, Ginetta G50 Cup and Trofeo Abarth 500 Great Britain as well as one of the most famous names in British motorsport, Butler-Henderson will be gunning for the overall title which he won in 2015.
Among the new drivers joining Butler-Henderson in the 2018 series will be Jordan Collard, who will be competing for the MINI Challenge Rookie cup which caters to up and coming drivers who are new to the series. Collard, who is among the youngest competitors at just 17 years old, started in karting before joining the Ginetta Junior Championship with the HHC Motorsport race team in 2017. Jordan said:
I'm looking forward to getting behind the wheel and training for the 2018 season. The move from rear-wheel-drive to front-wheel-drive is an exciting challenge, and the MINI John Cooper Works CHALLENGE race car is so much fun to drive – particularly in the corners.
Every driver has something to fight for in every race regardless of class or budget and the MINI CHALLENGE has led the way in providing opportunities for talented drivers to move up through the ranks. Every race awards trophies to first, second and third in each class as well as a prize to the top rookie, with an overall MINI CHALLENGE champion, runner-up, third overall and class winners also awarded at the end of the season. The Rookie Cup is awarded to the top newcomer in each class, the Ladies Cup goes to the top female driver in each class and drivers over 40 are awarded points towards the Directors Cup.
John Cooper Works and Cooper PRO racers are eligible for the Sunoco 240 Challenge, with the winning driver enjoying the incredible opportunity of a race seat in the Sunoco-liveried muscle car during the 4-hour endurance race held at Daytona Raceway the Friday before the Rolex 24 Hours.
The John Cooper Works class will compete across eight weekends, including two MINI Festivals at Brands Hatch and Oulton Park. The provisional list of 2018 John Cooper Works class fixtures can be seen below.
John Cooper Works paddock hospitality has been completely renewed for 2018 with an impressive new space for drivers, support teams, sponsors, and fans to relax during race weekends. Race weekend packages including VIP access to the hospitality and bespoke behind the scenes access with MINI brand ambassador Charlie Butler-Henderson are available directly from MINI retailers across the UK and MINI CHALLENGE directly.
Speaking of the 2018 MINI CHALLENGE series, Nicolas Griebner, Head of Product at MINI UK, said:
The MINI brand started the year by announcing the new MINI Hatch range – so what better way to demonstrate our sporting credentials than with another year of captivating racing in the 2018 MINI CHALLENGE series. We have worked very closely with Antony Williams and the team at MINI CHALLENGE to introduce a number of improvements for this year, including significant investments in a striking new hospitality unit, which will enhance the series for both drivers and fans alike.
Preliminary 2018 MINI CHALLENGE John Cooper Works Class Fixtures
ROUND ONE
31 March – 2 APRIL
OULTON PARK INTERNATIONAL
ROUND TWO
28 – 29 APRIL
ROCKINGHAM
ROUND THREE
26 – 27 MAY
SNETTERTON
ROUND FOUR
9 – 10 JUNE
SILVERSTONE GP
ROUND FIVE – MINI FESTIVAL
21 JULY
OULTON PARK ISLAND
ROUND SIX
4 – 5 AUGUST
BRANDS HATCH GP
ROUND SEVEN – MINI FESTIVAL
25 – 26 AUGUST
BRANDS HATCH INDY
ROUND EIGHT
22 – 23 SEPTEMBER
DONINGTON PARK
Note: Press release courtesy of MINI UK.