Jaguar Land Rover is the first car maker to put its cars to the test with the AIR Index – and the new independent on-road emissions testing procedure has found that Jaguar Land Rover diesel models have some of the lowest NOx emissions of any car on sale today.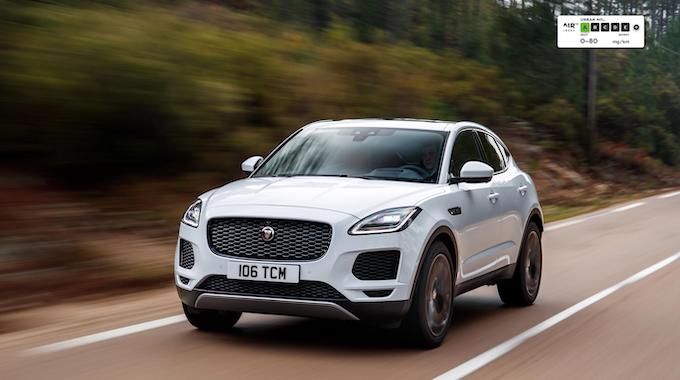 The models independently tested for the AIR Index were 180hp 2.0-liter diesel Ingenium 4WD versions of the Jaguar E-PACE, Land Rover Discovery Sport and outgoing Range Rover Evoque. The AIR Index has previously rated the Land Rover Discovery 3.0TD6. All four achieved an 'A' rating – the top rating possible – signifying that each of them emits between 0-80mg/km of nitrogen oxides or NOx.
Here is a full model-by-model breakdown of Jaguar Land Rover's AIR Index ratings:
Jaguar
Make
Model
Year
AIR Index
Rating
NOx measured
by AIR
Fuel Type
Official
NOx limit
Euro
Standard
Jaguar
E-PACE HSE
2.0l 180hp
2019
A
14 mg/km
Diesel
80 mg/km
Euro 6
Land Rover
Make
Model
Year
AIR Index
Rating
NOx  measured
by AIR
Fuel Type
Official
NOx limit
Euro
Standard
Land Rover
Discovery Sport 2.0l 180hp
2019
A
34 mg/km
Diesel
80 mg/km
Euro 6
Range Rover
Evoque TD4
2.0l 180hp
2019
A
17 mg/km
Diesel
80 mg/km
Euro 6
Land Rover
Discovery 3.0
TD6 HSE
2018
A
33 mg/km
Diesel
80 mg/km
Euro 6
Nitrogen oxides emissions contribute to poor air quality in urban areas, but these latest results show just how vast the improvements in NOx emissions have been. In 2001, for example, the EU3 limit for NOx emissions in diesel cars was 500mg/km. By contrast, and through large-scale investment in new diesel technology at Jaguar Land Rover, the E-PACE 2.0D 180PS emits just 14mg/km.
AIR Index testing is carried out on at least two cars, sourced independently from a vehicle manufacturer, with Portable Emissions Measurement System (PEMS) equipment recording on-road driving in towns and cities. For a result to be considered acceptable for rating in the AIR Index there must be at least five, 10km trips completed during three separate journeys on at least two matching vehicles. From today, Jaguar Land Rover will display the AIR Index rating for each of the vehicles tested on its UK website to help consumers to make an informed and transparent choice.
As well as its strong performance in the AIR Index, Jaguar Land Rover is one of the first manufacturers to release RDE2-compliant models, in line with the latest government emissions legislation. Certain models in the XE and XF recently became the first cars in their class to officially pass the RDE2 NOx emissions regulations, nearly two years ahead of the legislative deadline.
Rawdon Glover, Jaguar Land Rover UK Managing Director, said:
We have been vocal about the benefits of diesel technology in recent years and I am delighted to see simple, clear and accurate consumer information about urban vehicle emissions published and available with the AIR Index.

The performance of our vehicles on the AIR Index reflects Jaguar Land Rover's investment in class-leading technology and its hard-working, talented engineers. There are some stand-out results here, particularly the superb performance of our new Jaguar and Land Rover SUVs.

For those drivers doing more than 12,000 miles a year, a modern diesel engine could be the best choice; not only are its NOx (and particulate emissions) comparable to a petrol engine, but economy is 25% better and CO2 is 15% lower.

The modern diesel engine certainly has a place in the current automotive landscape, and I'm confident that the AIR Index will provide the trusted, independent information essential to inform car buyers as they consider their next vehicle.
Massimo Fedeli, Co-founder and Operations Director, Allow Independent Road-testing (AIR) said:
The AIR Index provides easy to understand, at-a-glance information on actual vehicle emissions, from independent testing to help consumers compare vehicles when making buying decisions. Jaguar Land Rover asked us to put a range of their new diesel cars to the test, and the evidence shows that their latest engines are extremely clean, with all of the four models tested achieving theAIR Index A rating, which means that they produce the lowest levels of NOx emissions in urban driving.

One of the key things to observe from this set of AIR Index ratings is that perceptions of the emissions produced by particular vehicle types, such as SUVs, can be very misleading. In fact, Jaguar's E-PACE and Land Rover's Range Rover Evoque are amongst the cleanest cars on sale of any type, not just vehicles within the SUV segment. The perfect example is the Land Rover Discovery, which produced NOx emissions 20 times lower than a diesel Renault Clio supermini.
From 2020 every new Jaguar and Land Rover model on sale will offer the option of electrification, as ever-more-stringent air quality regulations come into effect throughout the world. In the meantime, Jaguar Land Rover has invested more than £1bn into the Engine Manufacturing Centre in Wolverhampton and its range of cutting-edge, new petrol and diesel engines.
 Note: Press release courtesy of Jaguar Land Rover.